Tree Committee
10 Drought-Tolerant Trees That Will Throw Shade
The summer heat has arrived. With the unpredictable climate patterns, one can only plan strategically when it comes to keeping cool long-term (and lowering energy-costs). Rising temperatures and drought in many communities make planting even harder. But don't worry, here are 10 shade trees with drought-tolerance that will keep you cool and add beauty to your yard. Read more here.
FEATURED TREE: Yellow buckeye (Aesculus flava): A rugged beauty
In 1784 while traveling near the Cheat River — in what is now West Virginia — sharp-eyed George Washington spotted a yellow buckeye with flowers that were purple instead of yellow. He planted seeds of that tree at Mount Vernon.
The yellow buckeye is a delightful sight in the Appalachian Mountains. It has a sort of rugged beauty. The striking compound leaves of the buckeye trees provide an accent in both forest and urban settings, and present a colorful display as winter approaches. Read more about this tree here from the Arbor Day Foundation.
Why We Need Green Space Now More than Ever
Some of the few places that remain safe to explore while social distancing during COVID-19 are city parks and green spaces. In these unprecedented times, there is a great desire to be outdoors and connect with nature, especially as the weather warms up. We have seen people eagerly flock to community gardens, neighborhood parks, and green spaces during the pandemic. And this is not surprising, considering the many physical and mental health benefits of connecting with nature including lowering stress, mental fatigue, depression, anxiety, and improving overall mood. Read more here.
One Simple, Cheap Trick To Make Cities Better: Plant More Trees
When cities plant trees, they do more than make the place look nice. They also help cut energy use (by reducing the need for air conditioning), store carbon dioxide, trap airborne pollutants, and intercept rainfall. Oh, and raise property prices: As any real estate agent will tell you, "leafy neighborhoods" are more valuable than non-leafy ones. Read more here.
Trees and Shrubs - Harpers Ferry National Historical Park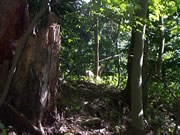 Since 70% of the park is forested, it is no surprise that a wide variety of tree and shrub species occur here. Read more here.

(At left: Common vegetation found along the Maryland Heights hiking trail. NPS photo.)
Hybrid Hazel Nut Project
Hazelnuts hold great promise for increasing the world's sustainable food, feed, and energy supply. That's why both researchers and members around the United States are working together to expand the potential of this hybrid crop. Learn more.
TREE COMMITTEE
The objectives and authority of the Tree Committee are detailed in Codified Ordinance 1104, officially titled the Harpers Ferry Tree Conservation Ordinance. The Committee is responsible for the enforcement of the Ordinance, the provisions of which are enacted to:
Establish a responsible authority for the management of the Corporation's urban forest;
Establish and maintain the optimal amount of tree cover on public property in the Corporation;
Maintain the Corporation's trees in a healthy and non-hazardous condition through good arboricultural practices; and
Establish and maintain diversity in appropriate tree species and age classes to provide a stable and sustainable urban forest.
The Harpers Ferry Tree Committee officially consists of eight members: five voting members, appointed by the Town Council; the Town's Maintenance Supervisor; one representative from the West Virginia Division of Forestry; and one representative from Potomac Edison (successor to the former Allegheny Power). Of the five voting members, one must also be a member of the Planning Commission. The four regular members are each appointed for two-year terms. In addition, the Mayor of the Corporation of Harpers Ferry is considered an agent of the Committee.
Through efforts of the Tree Committee, Harpers Ferry was first designated a Tree City USA community by the National Arbor Day Foundation in 2008. As part of the requirements to be recognized as such, a resolution approved by the Town Council the same year designated the fourth Friday of every April as Arbor Day in the Corporation of Harpers Ferry, although since 2009 each Arbor Day ceremony has been held on the fourth Saturday instead of Friday.
Meetings of the Tree Committee are held the fourth Thursday of each month at 7:00 p.m. in the Council Room at Harpers Ferry Town Hall.
Tree Committee Members
Tyler Mayhew, Chair (term ending 31 Dec 2021)
Christy Huddle, Vice-Chair (term ending 31 Dec 2020)
Robert Nelson, Secretary (term ending 31 Dec 2021)
Kevin Kosa (term ending 31 Dec 2020)
Tim Wisecarver, Planning Commission representative

Larry Waters, Town Maintenance Specialist (non-voting)
Matthew Cook, WV Division of Foresty representative (non-voting)
(vacant), Potomac Edison representative (non-voting)