Tree Committee
Arborist Advice: Why Should You Prune Your Trees During the Dormant Season?
Trees need care during every season. Pruning during the dormant season, when buds have yet to open and trees are in hibernation, provides numerous benefits. Well-maintained trees are an asset to any property, and can actually increase a property's value by up to 14%. A healthy tree in good condition can be worth up to $10,000, proving that maintaining your landscape truly is a good investment. Read more here.
FEATURED TREE: Tuliptree (Liriodendron tulipifera): A flower bed in the sky
The tuliptree is distinguished in many ways — from its beautiful late spring flower show and its almost equally vibrant fall colors, to its place in history and its considerable industrial value. It is perhaps most known and loved for its large, yellow and orange, tulip-shaped flowers, which bloom in May and early June. Seen from above, from a hilltop or upper story balcony, these flowers are especially stunning. But this large tree, which is pyramidal when young and oval at maturity, maintains its beauty throughout the year. Summer leaves are shimmering green, fall foliage is bright gold, and wildlife—attracting fruit remains on the tree long into the winter. Tuliptree makes an attractive addition to home landscapes and parks when enough space is available for so grand a tree. Read more about this tree here, along with information on ordering from the Arbor Day Foundation.
Trees are a Powerful Tool in Natural Climate Solutions
The Intergovernmental Panel on Climate Change (IPCC) Special Report (SR15) finds that limiting global warming to 1.5° Celsius will require "rapid and far-reaching" transitions in land use, energy, industry, buildings, transport, and cities. Unless there is a technological breakthrough, natural climate solutions continue to be the only proven way to do that at scale. The Arbor Day Foundation was grateful to host, participate in, and attend many inspiring events at Climate Week NYC in 2019, joining sustainability leaders for Forest Restoration: Climate Solutions for Business. This session explored approaches to investing in forest restoration and community trees. Read more here.
One Simple, Cheap Trick To Make Cities Better: Plant More Trees
When cities plant trees, they do more than make the place look nice. They also help cut energy use (by reducing the need for air conditioning), store carbon dioxide, trap airborne pollutants, and intercept rainfall. Oh, and raise property prices: As any real estate agent will tell you, "leafy neighborhoods" are more valuable than non-leafy ones. Read more here.
Trees and Shrubs - Harpers Ferry National Historical Park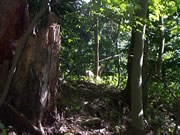 Since 70% of the park is forested, it is no surprise that a wide variety of tree and shrub species occur here. Read more here.

(At left: Common vegetation found along the Maryland Heights hiking trail. NPS photo.)
Hybrid Hazel Nut Project
Hazelnuts hold great promise for increasing the world's sustainable food, feed, and energy supply. That's why both researchers and members around the United States are working together to expand the potential of this hybrid crop. Learn more.
TREE COMMITTEE
The objectives and authority of the Tree Committee are detailed in Codified Ordinance 1104, officially titled the Harpers Ferry Tree Conservation Ordinance. The Committee is responsible for the enforcement of the Ordinance, the provisions of which are enacted to:
Establish a responsible authority for the management of the Corporation's urban forest;
Establish and maintain the optimal amount of tree cover on public property in the Corporation;
Maintain the Corporation's trees in a healthy and non-hazardous condition through good arboricultural practices; and
Establish and maintain diversity in appropriate tree species and age classes to provide a stable and sustainable urban forest.
The Harpers Ferry Tree Committee officially consists of eight members: five voting members, appointed by the Town Council; the Town's Maintenance Supervisor; one representative from the West Virginia Division of Forestry; and one representative from Potomac Edison (successor to the former Allegheny Power). Of the five voting members, one must also be a member of the Planning Commission. The four regular members are each appointed for two-year terms. In addition, the Mayor of the Corporation of Harpers Ferry is considered an agent of the Committee.
Through efforts of the Tree Committee, Harpers Ferry was first designated a Tree City USA community by the National Arbor Day Foundation in 2008. As part of the requirements to be recognized as such, a resolution approved by the Town Council the same year designated the fourth Friday of every April as Arbor Day in the Corporation of Harpers Ferry, although since 2009 each Arbor Day ceremony has been held on the fourth Saturday instead of Friday.
Meetings of the Tree Committee are held the fourth Thursday of each month at 7:00 p.m. in the Council Room at Harpers Ferry Town Hall.
Tree Committee Members
Tyler Mayhew, Chair (term ending 31 Dec 2021)
Christy Huddle, Vice-Chair (term ending 31 Dec 2020)
Robert Nelson, Secretary (term ending 31 Dec 2021)
Kevin Kosa (term ending 31 Dec 2020)
Tim Wisecarver, Planning Commission representative

Larry Waters, Town Maintenance Specialist (non-voting)
Matthew Cook, WV Division of Foresty representative (non-voting)
(vacant), Potomac Edison representative (non-voting)